It's All About The U
It's All About The U
Again & Again
When I decided to apply to the University of Miami as an Early Decision applicant, I just knew in my heart that the "U" and studying here in South Florida was the right decision and place for me. After four years, a Bachelor's in Science and double-majoring in Marine Science and Coastal Geology, in addition to earning my minor in Climate Policy through the Rosensteil School of Marine and Atmospheric Science, I can happily share that my intuition was right: the University of Miami and staying here in my beloved South Florida was the perfect place for me.
Over the summer, some of you have kindly asked me "what's next?" and before I share that news with you, allow me to thank a few incredibly special, supportive, and inspirational people in and out of the classroom over these four years while a Miami Hurricane.
I'd be remiss to not thank the University and everyone involved in honoring me with a Foote Fellowship, as well as a Singer Scholarship, and along the way allowing me to participate in all sorts of campus organizations including and even being named recipient of the Roberta "Bosey" Fulbright Foote Prize last year by President Frenk. Allow me to give a special shout out to Dr. Jim Klaus for being my trusty advisor and who helped me resurrect the Geology Honor Society (Sigma Gamma Epsilon), Teddy L'houtellier for his amazing support of my roles within the Student Government ECO Board and Green Committee, plus my passion to see solar all over campus.
So what's next?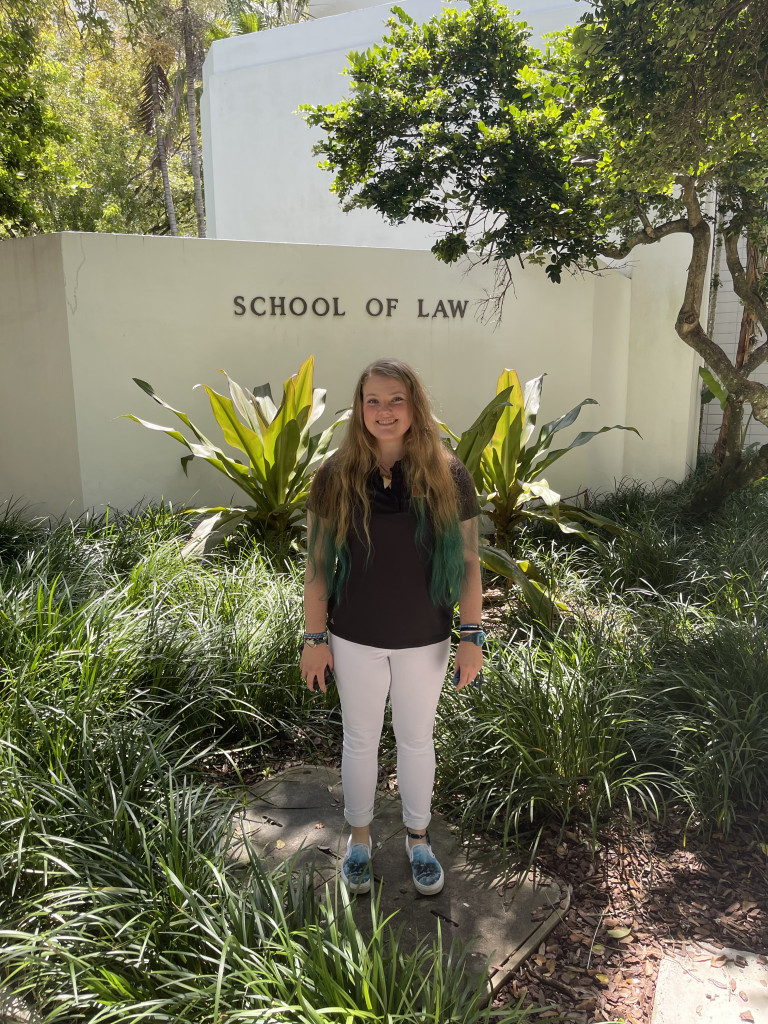 Well, I am humbly proud to share that I've been accepted into the dual degree program here at the University of Miami's Abbess Center for Ecosystem Science and Policy where over the next several years I will have the incredible opportunity to earn both Juris Doctorate and a Ph.D. while being able to work on a range of environmental issues and causes that are deeply important to me. As part of my acceptance and scholarship I will also have the opportunity to act as a Teaching Assistant, in addition to having the ability to continue to purse my passion for protecting our fragile environment from a range of threats whether they be sea level rise, oil drilling or increasing temperatures.
As I head off on this new academic adventure allow me to thank (Kenny Broad, Catherine Macdonald, Harold Wanless, Gina Maranto, Joseph Matthews, Katrin Schroll, Jessica Owley, and Abigail Fleming) for their kind support of my graduate school application, as well as my passion to explore and protect our environment. I am forever grateful.
Having followed in the footsteps of my grandfather, father, and mother (all Miami graduates) I've always been enormously proud of my heritage as a Miami Hurricane, but the idea that one day soon I will be a three-time graduate is, admittedly, pretty incredible. The University of Miami has always been ever so supportive of my educational and environmental dreams in ways that I will likely never be able to repay but will certainly never, ever forget.
My graduate school adventure starts with a requirement that I complete my first year of law school over the next 12 months. I've never, of course, attended law school but am consistently told that the first year requires an enormous amount of time and dedication (along with at least a few tears!). With that commitment in mind, I am not yet certain about how much time I will truly be able to dedicate to The Sink or Swim Project in the near term but will, as always, do my very best to stay active and engaged in fighting for what's important.
I can say, however, that I am excited to put in the hard work that graduate school deserves and to gain the knowledge it portrays so as to allow me to spend the rest of my life pursing my passions in the field as a scientist, in the halls of justice as a lawyer, and, with any luck, inspiring and teaching future generations of thought leaders and agents of change as an educator.
As a graduate, much less now a grad student, making a difference in our world and giving back to our society is what being a Miami Hurricane truly means to me. As I've said before, for me it's All About The U and as I step off on this next grand educational adventure I want to thank my entire Miami Hurricane family, friends, mentors, and colleagues for your never ending support.