The CLEO Institute
I am honored to announce that I have been asked to join The CLEO Institute's Youth Forum and want to use today's blog post to tell you a little bit about CLEO's excellent work as well as to suggest that you visit their (our!) website to learn more (http://www.cleoinstitute.org/).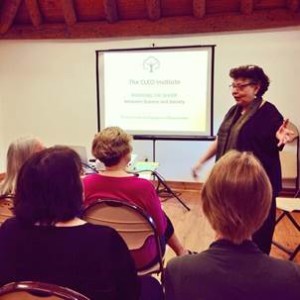 I want to begin by thanking long time South Florida educator and founder of The CLEO Institute, Mrs. Caroline Lewis, for honoring me with the invitation to join the Youth Forum. If you don't know Mrs. Lewis (here is a pic of her in action) or have not heard her speak about climate change then I encourage you to attend one of our upcoming events as I know you will love her and what she has to say.
The CLEO Institute's mission is to promote an informed and engaged public, better poised to become involved and make changes to support climate resilience locally, regionally, nationally, and globally. We do this by bringing stakeholders from the community, business, scientists and students together in formal and informal trainings, events and forums to educate everyone on global warming and sea level rise. This work includes Introductory Trainings, Essential Trainings and Advance Trainings on climate change as well as our Answer the Question campaign and much more.
 The CLEO Institute also holds a range of more social, informal, learning sessions such as their Science Café's, Wine & Cheese Discussions, Film Screenings and lots more. The CLEO Institute's Youth Task Force operates social media campaigns, meets with elected officials, coordinates a variety of events such as the Earth Day Festival at the lovely Pinecrest Gardens, organizes competitions between local schools such as the Climate Hero Video Contest and, of course, provides presentations for local Middle and High School students along the lines of what we do here with the Sink or Swim program.
Allow me to end this post by sharing that I have been invited to speak at the Youth Forum on Climate Change and Water  at the University of Miami's School of Communication's Shoma Hall on April 16th.  My presentation that night will outline my work on The Sink or Swim Project including recent presentations and our future plans. Please look for a future post with all the exciting details in advance of the big day.
From all of us at Sink or Swim, we hope you had a lovely Easter and Passover!