Making landfall as nearly a Category 5 storm, Hurricane Irma devastated much of the Lower Florida Keys including the island (No Name Key) where my family's home is located. When we returned to our home a few days after the storm had passed, one of our first tasks was to go up on the roof to check the solar panels.  As I reached the top of the ladder I instantly saw that they were undamaged and looked exactly like they had just a few days earlier, before the storm.
But as I stood there on our roof I had a bird's eye view of the island and could see debris and devastation in every direction as far as I could see.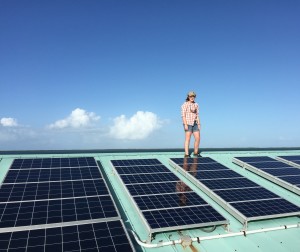 To the West, where commercial fishermen keep their lobster and crab boats docked in the water, those gigantic vessels now sat up on land, tossed into the trees by Irma's storm surge as if they were toys.
To the North and South and, well, in every direction that I looked, there was (and still is) debris from people's homes and lives.
And yet there in front of me our roof was seemingly untouched and our solar panels glistened as if Irma had never happened.
And when we turned our solar system on after climbing back down off of the roof, guess what? The system worked perfectly and, despite the fact that Hurricane Irma caused nearly seven million people in Florida to lose their power, our home on No Name had her's. The bright sunlight powered our home and filled our bank of batteries up for use at night and although we were not able to net solar meter by connecting to the power grid because its poles and wires were nearly all broken by Irma, our solar system brought a bit of brightness (and normalcy) to us more than typically would be the case.
As I publicly advocated the solar power mandate that went into effect last month at the City of South Miami (click here to read more about that law), one of the concerns residents and others who spoke out against the idea often expressed was that adding solar panels to one's roof would either weaken the roof's ability to withstand a hurricane or that the panels themselves would blow off during a storm. Both assertions are myths and, in fact, the opposite is true.
My experience with Irma shows that a properly installed solar system will not only survive a direct hit from a catastrophic hurricane but actually helps secure the very roof that such panels typically sit upon. As our society continues to discuss how our citizens receive power in the future and how we can transition to sustainable solutions such as rooftop solar, it is my hope that some good lessons can come from Irma and teach everyone that:
A) Solar panels are built to withstand and survive these monster storms, even one as devastating as Irma, they will not blow off your roof, 
B) Properly installed solar panels have the added benefit of helping protect your roof from a hurricane because the hardware used to attach them helps strengthen the roof by securing it to the trusses below,
C) A solar power system in your home can often provide you with power well before your local utility can after a hurricane hits (FP&L provided our Miami home with power 11 days after Irma and Keys Energy returned power to No Name 14 days later – a remarkable accomplishment Keys Energy should be commended for given the devastation in that region).
So the next time someone tells you that solar panels can't survive a hurricane's winds or that having them on your roof makes the roof more vulnerable, please tell them about my home on No Name Key and let them know that those are myths. The reality is, thankfully, that solar panels are built and installed to keep working even when the utility grid and local power company can't.
PS: Speaking of No Name Key, my family was fortunate as compared to others in our area. If you've not read my recent comments and blog about my No Name Key neighbor Bob Eaken and how Irma destroyed his long-time home I hope you will read it by visiting here and that you will consider both donating to his rebuilding effort and share his story with your friends. I know he would appreciate any help you can offer. Thanks for your consideration during his time of need.