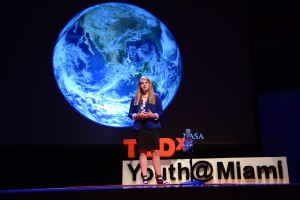 I am humbled and excited to share with you that the video for the TEDx Talk that I gave on sea level rise earlier this year has just been released and I cannot think of a better day to share it with everyone than Mother's Day.
The reason that sharing this with you today is so appropriate is because of the wonderful support that my mother (and father and brother) has given to me is beyond anything that I could have hoped for and is part of the reason that The Sink or Swim Project has touched thousands of people in such a short time.
I sincerely hope that you will share this TEDx Talk with as many people as possible. The topic and the message are very important to South Florida, our country, and our planet. As you will see, the talk focuses on the fact that our planet is warming, seas are rising, that we must and can overcome political obstacles that protect old habits, and that the children of my generation "get it" and will demand solutions, as well as lead the way during our lifetimes to implement them.
Thank you to my mother for all of her love and support and happy Mother's Day to your moms. The love of a mother is like no other and should be cherished, and that includes cherishing our environment and Mother Earth.