Breaking News: Florida Sets Climate Goal of 100% Renewable Energy by 2050 by Accepting Youth Petition
Today is a big day for Florida and for our environment.
As a result of the Petition my friends and I filed in January, Florida Commissioner of Agriculture and Consumer Services Nikki Fried agreed to begin the rulemaking process and today announced the Rule setting the goal that Florida achieve 100% renewable energy by 2050. This Rule holds the promise of starting to solve the cause of our climate crisis, the use of fossil fuels, and I could not be more excited, nor proud.
I'd like to start by thanking my other three youth Petitioners in this historic effort: Valholly, Isaac, and Levi. I must tell you that whether it's acting as youth plaintiffs in the lawsuit we filed against Governor Scott several years ago or the Rule we are advancing today, it is not easy putting ourselves in the line of fire so to speak, especially so at such young ages, nor is it easy having to make countless sacrifices to fight for our environment. But I know I speak for each of us when I say that the importance of what we are trying to accomplish, what we are trying to protect not only for ourselves but for every future generation is worth the time and sacrifice. So, thank you Valholly, Isaac, and Levi.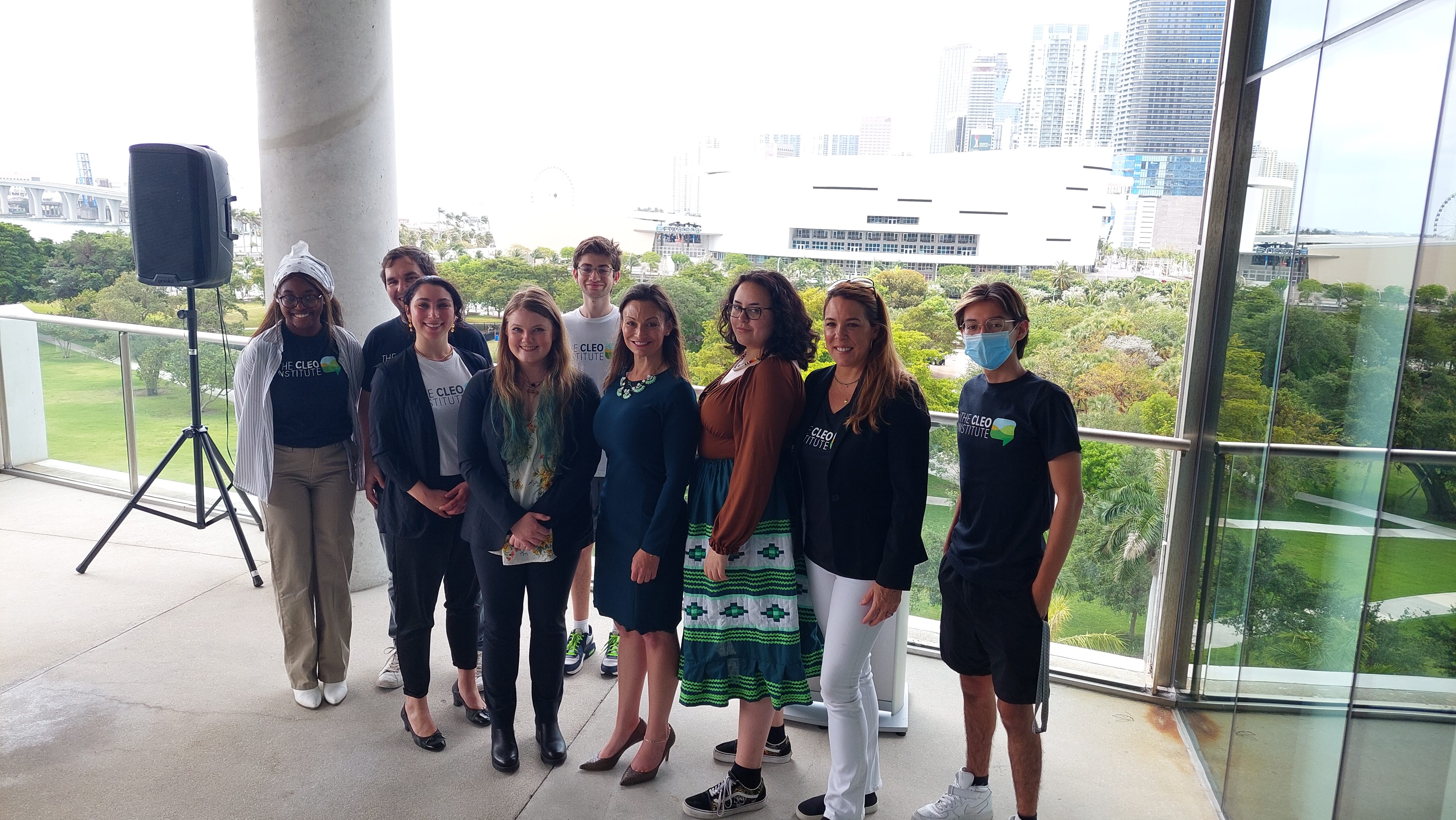 And speaking of young Floridians, allow me to also thank the hundreds of young people all over the state who signed on to support our Petition earlier this year. To each of you I am sincerely grateful and most certainly proud. The work to implement rules to shift Florida's energy to sustainable solutions will be long and I suspect often hard, but I know I can count on young Floridians to do the right thing, to fix what the adults before us have done and to make Florida a leader in the world-wide fight against our climate change crisis.
I'd like to, of course, thank Commissioner Fried for her leadership in accepting our Petition as well as her staff members Ms. Shelby Scarpa and Mr. Steven Hall for their hard work. Supporting our Petition for Rulemaking requires fortitude and a passion to set political differences aside but, of course, anything truly worthwhile requires such sacrifices and I am proud of each of you for making the right decision and supporting the concerns of not only my friends and me, but future generations forever more.
I'd also like to thank the folks from Our Children's Trust including Julia Olson and especially my friend, lawyer, and longtime supporter in my desire to see Florida address the cause of climate pollution, Andrea Rogers, as well as Paul Rink and David Schwartz. Allow me to also thank Mitchell Chester, my Ft. Lauderdale based attorney. I've known Mitchell since I began working to fix our climate crisis when I'd just become a teenager and I am very grateful for his support and friendship for now nearly a decade, so thank you Mitch.
So on this gorgeous South Florida Spring Day, I'd like to share why today's announcement is so important, what should happen next and why the opportunity ahead of us is so exciting.
As I mentioned, and as is worth repeating, the promise that the Rule holds is that today Florida can begin to actually address a core cause of our climate crisis: the use of fossil fuels in Florida's energy system. That's why today's announcement and the steps that will follow are so monumentally important to our future.
The 2006 Florida Renewable Energy Policy (§366.92) that the Florida Legislature passed was created to transition our energy sources in Florida to sustainable sources by 2050 and not only better protect our own State but help the United States and the world beyond solve the cause of our climate crisis. Unfortunately, 12 years have passed since that law was created and in that time our government has done nearly nothing to embrace the 2006 law's promise of shifting Florida's energy sources to entirely sustainable ones.
That is until today when inaction transitions into action.
And speaking of politics, some elected leaders would have you believe that they are committed to addressing our climate crisis by strictly touting mitigation and resiliency efforts.
Unfortunately, it is true that we have no choice but to work to mitigate the damage mankind has already done and continues to do to our atmosphere and oceans by employing measures you can find all over South Florida such as seawalls, raising roads, and installing pumps as just a few examples.
But if we are to ever actually solve what's causing our climate change crisis it will not be through mitigation and resiliency but by having our leaders, both private and public, actually address the foundational cause.
Now I might only be 22 but it seems to me that rather than allowing the problem to get worse by the day, rather than throwing away hundreds of billions of taxpayer dollars, and in time trillions, to try and mitigate the problem we should be trying to solve what's causing the problem: the use of fossil fuels all over our planet, including most certainly right here in Florida.
Is that not a worthy goal of our public servants, those elected to help us? I sure think so and, with that in mind, I am calling on our elected officials to embrace the rule making process and help nudge our energy providers to becoming 100% sustainable by 2050.
And speaking of Florida's energy providers, I call on each of you to also embrace the Rule and to transparently work with the State and public to meet the goal of only utilizing sustainable energy on or before 2050. Together we can transition our energy sources to sustainable ones.
To Eric Silagy, Florida Power and Light's CEO, and both my local power company and Florida's largest energy company, I'd like to challenge you and your parent company, NextEra Energy, to openly and publicly embrace this transition and the Rule that is about to be established in a transparent manner. I ask you to set aside the PR and expensive television advertising touting your supposed commitment to sustainable energy and ask that we work together to shift your energy sources to being 100% sustainable by 2050.
FPL has been in business here in Florida since 1925 and after nearly 100 years sources less than 3% of its energy from solar, from the sun. Remarkably, FPL sources nearly the same amount of its energy from coal and oil. Mr. Silagy, FPL can and must do better and I call on you to embrace the rulemaking process to work with us to make this a reality.
I also want to very specifically ask Florida Governor DeSantis to set the political rhetoric aside and to publicly embrace the rule making process and in doing so demand that Florida's energy suppliers shift entirely to sustainable sources. If you are serious about protecting our environment, about Florida's future and about lowering energy costs for Floridians then today's news should be easy for you to support.
Allow me to also address a couple of the reasons why today's news is so filled with opportunity for our state.
Some, of course, will suggest that one state within one country can't have an impact in helping solve the climate crisis but I do not agree. Consider that according to the Florida Chamber Foundation, if Florida were a country of its own then our economy would be the 17th largest in the world. And soon will be the 15th largest and by 2030 Florida is projected to be the 10th largest ahead of entire countries such as Russia, Brazil, and Spain to name just three. With 22 million residents, a number expected to grow to at least 26 million by the end of this decade, Florida most certainly has the size and scope to make a real difference in solving our climate crisis and to lead the way for others to surely follow.
 And since we are in sunny South Florida let's consider that according to the World Economic Forum 79% of the United States' energy demand could be met by solar power and enhanced battery systems by 2050, while also lowering energy system costs. And that's just from solar power.
I've grown up part-time in a solar powered home and it has long seemed to me that in a place called The Sunshine State, the State of Florida government should embrace and facilitate solar power both as the major source of our energy but as an industry. Can you imagine a day when most of Florida's energy comes from the sun? Or for that matter a day where our state is the worldwide leader in manufacturing solar equipment, panels, and batteries? Unfortunately, Florida is nowhere near where it could be, but today's news is a step in the right direction.
And speaking of good news, in 2021 the Southern Alliance for Clean Energy concluded that the State of Florida has the most capacity for solar energy in the entire Southeast. 17 States have already committed to shifting to 100% renewable energy within the next three decades and cities here in Florida such as Orlando and Sarasota have committed to the same goal. This is what citizens of the United States want, this is what citizens of the State of Florida want and, it's what our environment needs and deserves so today's news certainly helps us take a step in the right direction and for that I am very, very grateful.
Thanks again to everyone who has worked so hard to make today's announcement a reality. I can't begin to emphasize enough how important it is that we take real action to eliminate our fossil fuel use before its too late, before more of Florida's 1,350 miles of coastline disappear and before special places like Miami Beach, the Everglades, or the Florida Keys are lost forever.
Thank you to everyone who was involved in writing the petition, signed the petition, and to Commissioner Fried and her staff for implementing the Rule.
Happy Earth Week everyone!