"Suitable or Unsuitable?" An Update on Florida's Energy Transition to Renewables
If we are to ever solve our climate crisis, a key step will require a total transformation of our global energy system and that starts by eliminating the use of every possible drop of fossil fuel that we consume today. To do that the rule that three friends and I helped motivate the State of Florida to finally publish earlier this year holds the promise of eliminating fossil fuels within our state's energy system in favor of renewables by 2050 was an important first step. But only that, a first step. With this in mind, I want to update you on the important next steps and the work we've been doing over the last few months including an example the challenges we continue to face to fulfil the promise of our new rule.
Before I update you on the latest news, allow me to remind you that in April of this year the Florida Department of Agriculture and Consumer Services (FDACS) agreed to publish a rule that set a state-wide goal for the State of Florida: reach 100% renewable energy by 2050. The state issued this rule only after the urging of Florida youth, including hundreds of young people from all over Florida who signed a petition for rulemaking asking FDACS to help decrease the use of fossil fuels in the State of Florida, as well as 100% renewable energy use by 2050. As one of the lead petitioners – alongside my friends Valholly Frank, Isaac Augsperg, and Levi Draheim – I am extremely proud that FDACS listened to young peoples' voices and took action by creating the first piece of climate policy in the State of Florida in over a decade and what some have called the most significant step Florida has ever taken. These are the types of steps that we should be taking nation-wide to shift our economy from one based on fossil fuels to one based on renewable energy. So, thank you again to the young people all over Florida who helped me by using our voices to fight for our environment.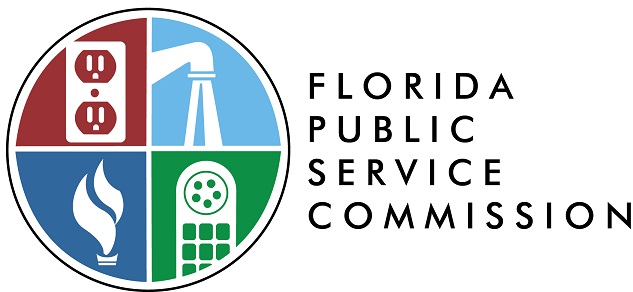 As we consider the next steps it's important to know the rule's purpose is to help ensure that something called the Public Service Commission (PSC), Florida's utility regulatory, enforces the goal by ensuring that Florida utilities create a plan and work towards reaching the 100% renewable energy by 2050 goal. The PSC exercises regulatory authority over utilities in three areas (A) economic regulation of the rates utilities charge consumers; (2) competitive market oversight; and (3) monitoring the utilities safety, reliability, and service.
To say that the PSC plays an important role in enforcing the new role is an understatement. One way it's envisioned that they will help ensure that utilities meet this goal relates to the fact that every two years Florida utilities must submit what's known as a Ten-Year Site Plan to the PSC, whose Board then approves or denies the utilities plan based on whether it meets Florida's regulations and standards.
Now that Florida has approved our new renewable energy rule the PSC should be working with the utilities to commence a planned transition to renewable energy to meet our 2050 goal. Given its important role as Florida's chief utility regulator, the PSC has become the focus of our work in recent months as we strive to ensure that the Commission upholds its responsibility to Floridians by enforcing this critically important transition. We've read all the utilities' most recent Ten-Year Plans and, not surprisingly, concluded that they do not take the steps needed to utilize 100% renewable energy sources by 2050. We shared those concerns with the PSC in a letter in August and in doing so we requested that the PSC find all the utilities' site plans as "unsuitable" and therefore not consistent with either Florida's legal requirements nor the public utilities own announced commitments to increase their use of renewable energy to reach their decarbonization targets. In our August letter we explained:
The PSC's ten-year site plan review process represents the only long-term energy planning undertaken by the State of Florida. For years, the PSC has routinely found utilities ten-year site plans to be 'suitable' even though they are inconsistent with state law and energy policy and have resulted in an energy system that is violating the constitutional rights of Florida youth. 
We also explained the following:
The utilities' 2022 ten-year site plans violate Florida law by, among other deficiencies, facilitating increased natural gas infrastructure and use over this critical period for climate change mitigation opportunity. Although NextEra and Duke Energy have publicly announced emissions reduction plans, their 2022 site plans still forecast significant – and in the case of Duke Energy Florida, increased-natural gas use over the next decade. The PSC cannot continue to find such plans "suitable" that lock in Florida's reliance on fossil fuels and which are contrary to state law and harmful to the public interest.
And, in addition to our letter we also provided a 16-page document entitled "The PSC's Suitability Findings Must Comply with State Law & Policy." That document detailed the historic lack of fuel diversity by the utilities 2022 Ten-Year Site Plans, that their plans do not analyze the environmental impact of the proposed natural gas power plants, that they do not analyze economically and technologically feasible options to continued natural gas dependence, that the utilities 2022 Ten-Year Site Plans are inconsistent with the State Comprehensive Plan, that the Plans violate the Florida Renewable Energy Policy, that the Plans are not consistent with FDACS' renewable energy goals, that the Plans ignore city and country renewable energy goals, and that the Plans are inconsistent with utilities' own public plans for decarbonization. As I said, given these concerns we asked the PSC to find the utilities' 2022 site plans "unsuitable."
Late last month the PSC's responded and I want to share their letter with you. Keeping in mind that our energy transformation away from fossil fuels is an essential key to solving our climate crisis it's terribly important to understand that our society can't solely rely on the very industries that have been causing and perpetuating the pollution for a century (utilities, auto makers, fossil fuel firms and other such stakeholders) to evolve into our renewable energy future on their own. Governments around the world, including yes right here in Florida, must provide the serious motivation, regulation, and rules for them to achieve what society and our climate deserve.
Unfortunately, the PSC's initial response does not seem to fully grasp the gravity of our climate crisis, nor its own regulatory role in fixing the problem. Instead, the PSC sees itself as having an "informal" role, believes that its review of the Ten-Year Site Plans by utilities is but an "informal action" and that it's not up to them to determine whether such a plan is "suitable" or "unsuitable" despite their role as Florida's utility regulator. Here's what they wrote my colleague and lawyer from the firm I am working with on this issue, Our Children's Trust, Andrea Rodgers, in response to our August letter: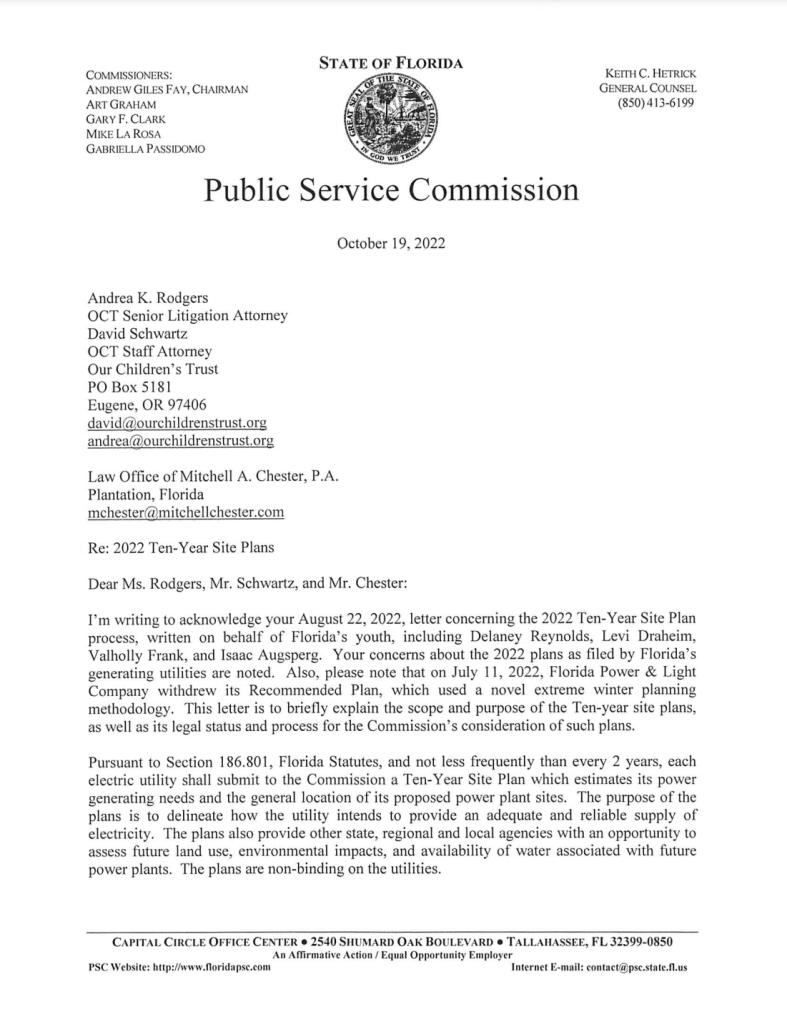 To be clear, the PSC's initial response does not fully surprise me. The PSC has long been seen as a perhaps too friendly advocate for the utility industry so the idea that they would easily focus on the public's concern and our new rule and something so important as the crisis we face should not surprise anyone. But, just like our energy providers, our governments must also evolve their thinking if we are ever going to truly evolve from today's antiquated approach to power to one based on renewable energy. And, here in Florida, that certainly includes the Public Service Commission.
As I have said many times before, we've only just begun the hard work related to our new rule and the energy evolution that's required to save special places all over Florida. The attached PSC response helps make that point and illustrates the types of challenges we will face not only from the utilities themselves, but government officials charged with regulating our energy providers. The good news is that I know I speak for young people all over our State of Florida and the world beyond when I say that we look forward to working to transition regulatory thought at places like the PSC, along with our energy system, before it's too late.