Summer 2023: America's Amazing National Parks
"In every walk with nature, one receives far more than one seeks."
John Muir, Father of National Parks
Following the end of an incredibly hectic and rewarding school year, I've spent much of the summer of 2023 on a truly epic road trip in western North America that allowed me to visit 20 of America's most special natural resources, including 15 of our National Parks. Along the way I was humbled to see breathtakingly beautiful nature that often brought tears to my eyes, met many incredible people, and made countess memories that I will keep in my heart and mind for the rest of my life.
As I've mentioned in prior posts, one of my life's bucket list items is to experience each of America's 63 National Parks. As of today, I've visited 25 and that now includes this summer's stops: Rocky Mountain, Grand Teton, Yellowstone, Crater Lake, Redwood, Lassen Volcanic, Yosemite, Pinnacles, Sequoia, Kings Canyon, Death Valley, Zion, Bryce Canyon, Grand Canyon, and Joshua Tree National Parks. While visiting those parks I also was able to enjoy several other special, protected places this summer including Craters of the Moon National Monument and Preserve, Monterey Bay Aquarium, Muir Woods National Monument, Point Reyes National Seashore, and the Mohave Desert National Preserve.
Although I often had little to no internet connection for much of my trip given the remote nature of many of the places I visited, my camera was always at my side so rather than trying to explain what I saw in words allow me to show you a few of the amazing highlights:
Favorite places and memories? Well, truthfully there really are far too many to list but a couple of highlights would include a magical meadow in Rocky Mountain National Park filled with birds all around me as I hiked along a rushing river as a violent thunder storm quickly approached; hiking 25 miles in Yosemite amidst so many massive and majestic waterfalls; snow banks everywhere for half of the trip despite it being June; rafting on the Snake River in Grand Teton with eagles watching us drift by; seeing so many black and grizzly bears including "meeting" one of the most famous of them all, "399", and her new cub who followed her through a meadow on its hind legs late one afternoon (you can check out 399's instagram… Yes, she has her own page, here); mountain biking through an alpine forest in Yellowstone National Park; hiking Fern Canyon in Redwood National Park; the fact that redwoods are so tall they seem to touch the clouds; everything about Point Reyes National Seashore (ditto for Grand Teton National Park); the cobalt blue water of Crater Lake that sits atop a snow covered volcanic mountain; the heat in Death Valley (102 degrees) and being 282 feet below sea level while there; countless stars sprayed across a pitch black sky at Joshua Tree; and being so fortunate to be with my family amidst such incredible nature.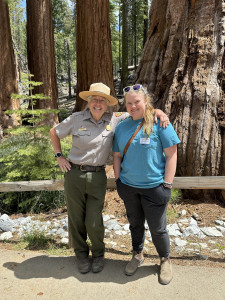 With summer about to end and the new school year fast approaching I do hope you will take time to get outside and experience nature. There is much work to be done, more than ever, to protect our natural environment but here's to hoping you can get outside to your local park, a state forest, beach, lake, nearby national park, or somewhere else special before the new school year begins.