Owen playing guitar for me in the lobby the morning I filmed with Jack Black
My brother Owen is an amazing person, an excellent student and he is an especially incredible artist. He can sing, act, make all sorts of contraptions, and play different musical instruments, including the guitar. He's been an inspiration to me in countless ways, is always supportive of all of my endeavors including my sea rise work. It was easy to ask him to join me on South Beach the day that I met Jack Black to film for the Miami Episode of Season 2 of Years of Living Dangerously and he and I had a blast that day.
Before the BIG day arrived Year's Co-Executive Producer Jon Meyersohn asked me what I initially thought was a strange question; "Do you own a guitar and, if so, can you bring it with you the day we film with Jack?"  While Owen packed one of his guitars I introduced him to some videos of Jack's band, Tenacious D, and that's when we started to wonder if Jack might actually play the thing for us.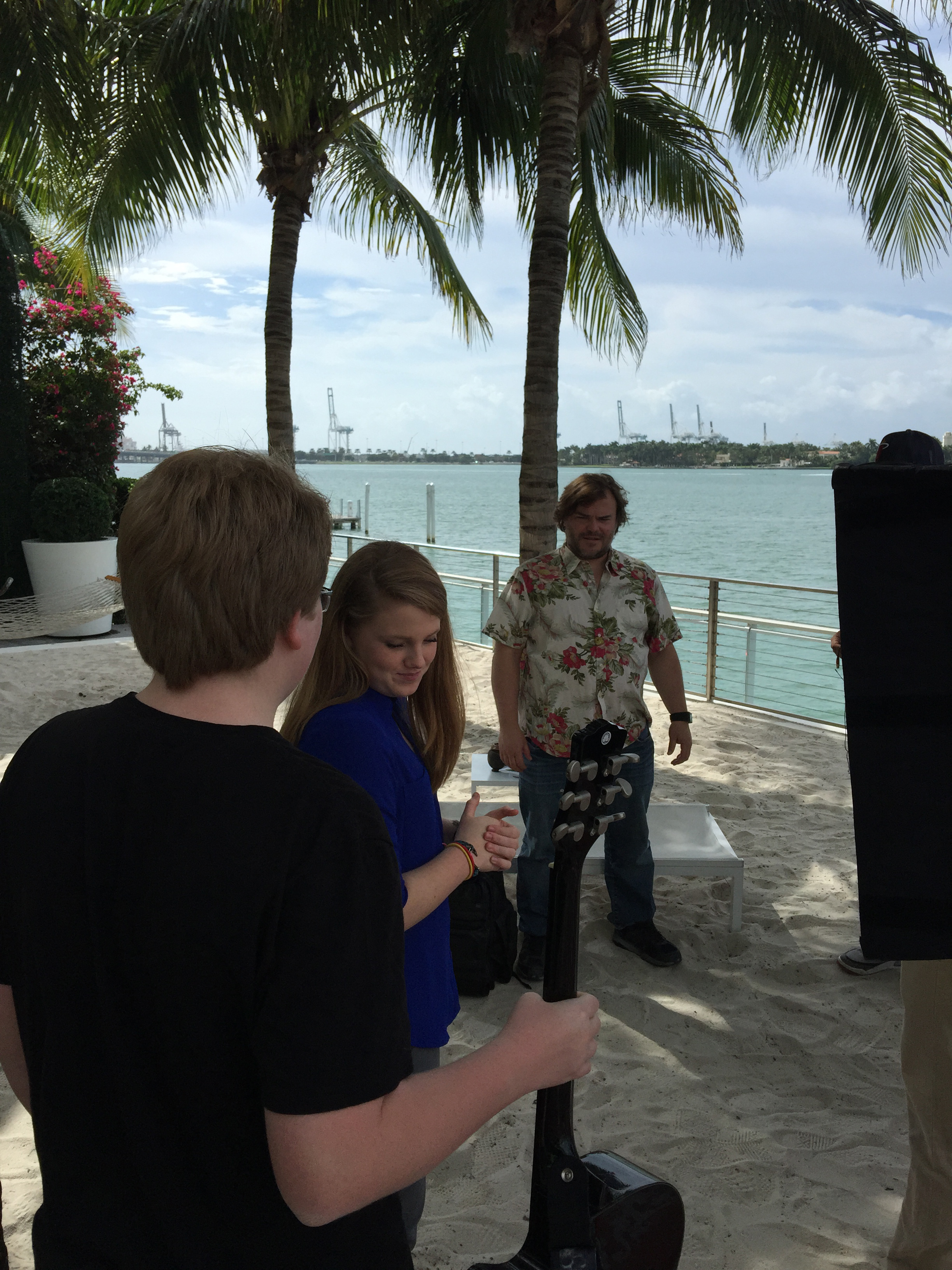 By the time we had finished filming and had eaten a late lunch I'd forgotten that we'd brought the guitar and that's when I was asked if we had brought one. Before I knew it Jack had it in his hand and began to admire it closely as Owen and I stood on the sand next to him and the most beautiful aqua water you can imagine. And that's when the sound and music exploded off of the guitar and out of Jack's mouth as he went into full Tenacious D mode and transported us off to his Land of Kickapoo (look it up) as if we were all on a speedboat. Amazing and fun and hysterical.
Hours earlier Jack could not have been more serious about the most serious environmental issue of our time, yet now we were lost in his world.  I guess I should share with you that Jack could not have been nicer to me and my entire family and, well, everyone that was there that day (even people just passing by and learning 'OMG, it's Jack Black!).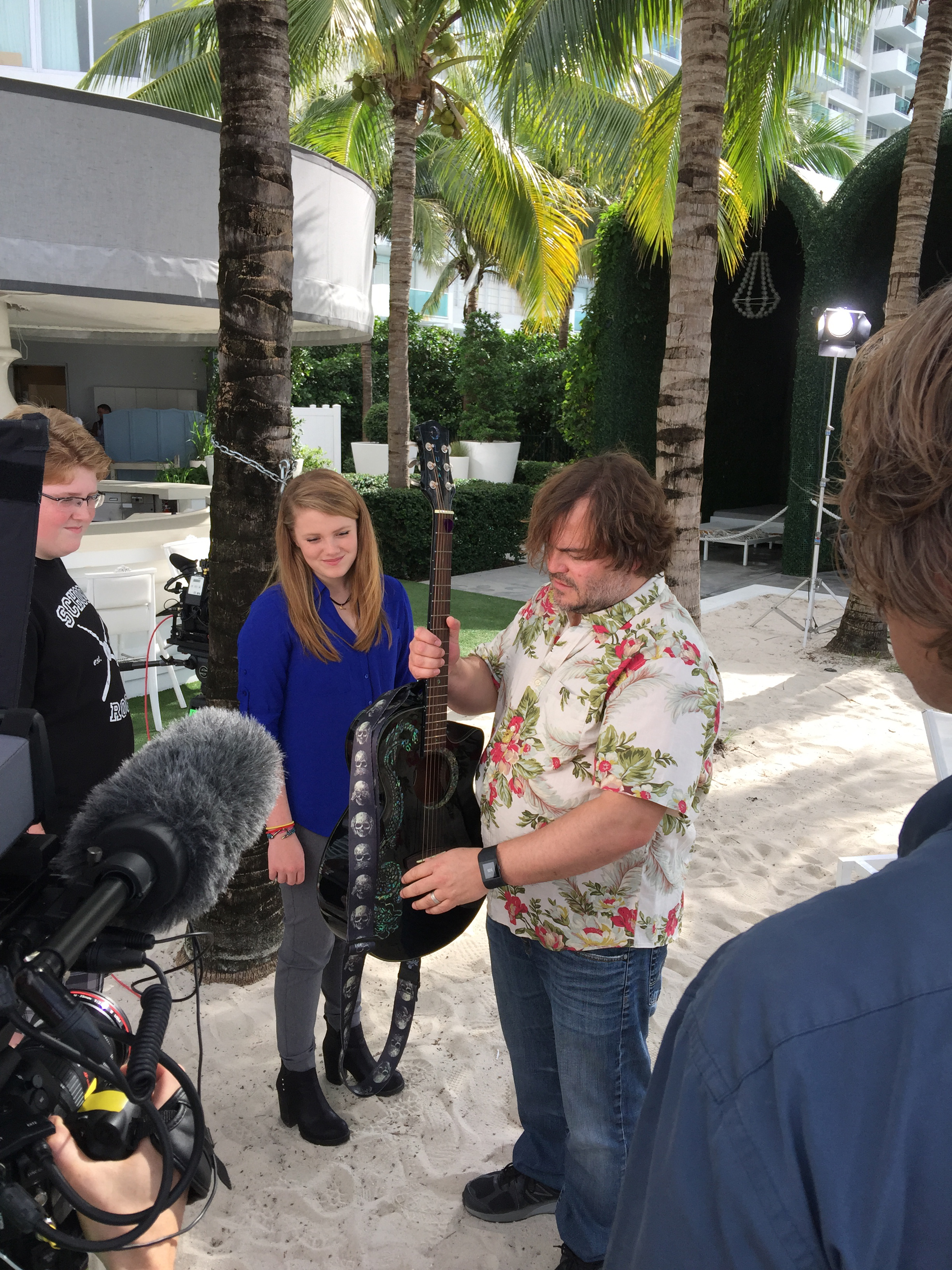 He was personable and down to earth and talked to me more like a friend than what he is, a major motion picture star and rock musician. And speaking of music, we spent a lot of time talking about his favorite bands (like Slipknot, Courtney Barnett, and others) and mine (like Piece the Veil and Sleeping with Sirens). He also gave me great selfie picture taking advice (click here to learn his expert technique). The best way I can describe him (and I mean this as a total compliment) is that Jack's just a normal dude. A normal dude that can act like crazy and rock a guitar and sing like the rock star he is.
When he rocked Owen's guitar it was simply magical to see and hear and in those few minutes we got to see the Jack Black that you see in movies. An explosive, energetic, entertainer who also enjoys having fun no matter what he's doing.
When he finished his mini-concert by the Bay he announced to all around that Owen's guitar was properly christened, remarked about the lovely inlay detail on it and insisted that they take pictures together, with the guitar, of course.
To see more of Jack, as well as yours truly, please tune into the Miami Episode (Gathering Storm, Saving Miami) on Wednesday November 2nd on The National Geographic Channel for Years of Living Dangerously. The Years of Living Dangerously has been called "the most important television series ever" for good reason and while Jack does not play guitar in our episode, he goes on an important adventure all over Miami to explain what's happening to South Florida and why we must all work together to solve the climate change crisis before it is too late.