I have very BIG news to share in that The Sink or Swim Project's initiative will be presented this and next week at two very prestigious conferences here in South Florida. Here are the details:
The Youth Forum on Climate Change and Water
April 16th at The University of Miami
I am very proud to announce that we will be presenting the Sink or Swim Project initiative at the Youth Forum on Climate Change & Water at the University of Miami on Thursday, April 16th 2015 and would like to invite EVERYONE to attend.
The Youth Forum on Climate Change & Water will take place from 5PM until 9PM at Shoma Hall on the Coral Gables campus of the University of Miami. Shoma Hall is located at 5100 Brunson Drive, Coral Gables 33146 within The School of Communications.
The program will include an environmental film screening of the film One Water for Sustainable Development as part of the Miami & The Beaches Environmental Film Festival (http://www.mbenvironmentalfilmfestival.org/), along with international guest speakers from the United Nations, the Consulate General of France and the City of Miami Beach. Here is the evenings schedule:
5:00 pm: Welcome and introduction to Forum and Context – UM & ECOMB
5:10 pm: Mr. Joakim Harlin, Senior Water Resources Adviser, United Nations Development Programme / Videoconference from Stockholm followed by Youth-led input and Q&A
5:30 pm: Screening: One Water for Sustainable Development followed by Youth-led input and Q&A
6:15 pm: H.E. Mr. Philippe Létrilliart, Consul General of France in Miami: Overview of climate change negotiations at the global level / Conference of Parties Climate Change Summit in Paris – what role for young people in this process?
6:30 pm: Global issues at the local level:
o Introduction by Caroline Lewis, Founder and Executive Director of the CLEO Institute
o Remarks by Ben Kirtman, Professor at the University of Miami's Rosenstiel School of Marine and Atmospheric Science
o Presentation by Betsy Wheaton, Environmental Resources Manager at the City of Miami Beach
7:00 pm: Designation of breakout groups and 15-minute snack break
7:15 pm: Facilitated break-out sessions with guidelines aimed at articulating youth-led actions; strategies for communicating urgency; target audience; and partners needed
7:45 pm: Larger youth-led group discussion / youth leader speakers compilation of action points and messages, with the intention of communicating them to policy makers locally, nationally and internationally. Format and strategy to be determined by youth participants.
8:30 pm: Closing and Reception
My talk on The Sink or Swim Project and sea level rise will be one of the evenings five youth presentations and I plan to discuss my initiative, my ongoing book project and the Academy of Agents of Change program at Palmer (Go Falcons!). The event is conducted in participation with the United Nations, the University of Miami, The Environmental Coalition of Miami & The Beaches and The CLEO Institute.
Global Educators Conference
April 24th at Palmer Trinity School
I am also very pleased (and proud) to announce that The Sink or Swim Project will be presented at The Global Educators Conference on Friday April 24th during Session I-F (between 10:45 AM and 12:00 PM) at Palmer Trinity Private School in Palmetto Bay.
Dr. Leopoldo Llinas, Palmer's Director of Environmental Stewardship and the school's head of the Academy of Agents of Change program, will present a lecture entitled Agents of Change: Learning Social and Environmental Innovation and as part of his discussion five of his 2015 'Agents of Change' will present their initiatives to the conference, one of which will be The Sink or Swim Project.
The Global Educator's Conference is presented by the Global Education Benchmark Group, an Association of Independent Schools that works together to find best practices in global education to prepare students, academically and experientially, for a diverse and dynamic cultural and socio-economic world. The conference is open to anyone interested in global education, and will address critical issues in the field with an emphasis on providing safe travel programs, management, global curriculum development, marketing, finance and communications.
I hope that you will consider attending one or both of these exciting events. Should you need any further information please feel free to contact me.
I am honored to announce that I have been asked to join The CLEO Institute's Youth Forum and want to use today's blog post to tell you a little bit about CLEO's excellent work as well as to suggest that you visit their (our!) website to learn more (http://www.cleoinstitute.org/).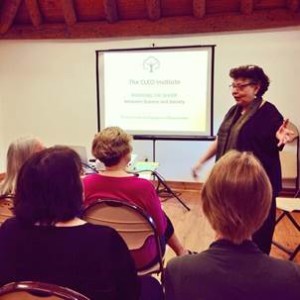 I want to begin by thanking long time South Florida educator and founder of The CLEO Institute, Mrs. Caroline Lewis, for honoring me with the invitation to join the Youth Forum. If you don't know Mrs. Lewis (here is a pic of her in action) or have not heard her speak about climate change then I encourage you to attend one of our upcoming events as I know you will love her and what she has to say.
The CLEO Institute's mission is to promote an informed and engaged public, better poised to become involved and make changes to support climate resilience locally, regionally, nationally, and globally. We do this by bringing stakeholders from the community, business, scientists and students together in formal and informal trainings, events and forums to educate everyone on global warming and sea level rise. This work includes Introductory Trainings, Essential Trainings and Advance Trainings on climate change as well as our Answer the Question campaign and much more.
 The CLEO Institute also holds a range of more social, informal, learning sessions such as their Science Café's, Wine & Cheese Discussions, Film Screenings and lots more. The CLEO Institute's Youth Task Force operates social media campaigns, meets with elected officials, coordinates a variety of events such as the Earth Day Festival at the lovely Pinecrest Gardens, organizes competitions between local schools such as the Climate Hero Video Contest and, of course, provides presentations for local Middle and High School students along the lines of what we do here with the Sink or Swim program.
Allow me to end this post by sharing that I have been invited to speak at the Youth Forum on Climate Change and Water  at the University of Miami's School of Communication's Shoma Hall on April 16th.  My presentation that night will outline my work on The Sink or Swim Project including recent presentations and our future plans. Please look for a future post with all the exciting details in advance of the big day.
From all of us at Sink or Swim, we hope you had a lovely Easter and Passover!