I LOVE music.
Especially modern alternative rock music from the likes of Pierce the Veil, Sleeping with Sirens, Neck Deep and Fall Out Boy, as well as Electronic (ED) Music from Calvin Harris, Steve Aoki, and The Chainsmokers. And what does music and pop culture have to do with our planet's climate change crisis you ask? Well, as it turns out, plenty.
WE ONLY GET ONE HOME
Combining my LOVE of music with my climate change concerns along with Nobel Peace Prize winner Vice President Al Gore, Grammy-nominated rapper Fat Joe and legendary DJ Steve Aoki with globally iconic MTV to share what's happening to our planet seems like a surreal dream.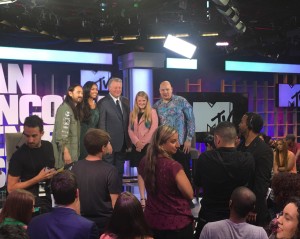 But I am pleased to share with you that starting on August 2nd at 7:30 PM on MTV you can see that dream come true by watching 'An Inconvenient Special', a Town Hall that I filmed recently at the MTV Studios in New York's Times Square in support of Vice President Gore's new movie; 'An Inconvenient Sequel: Truth to Power' that stars Vice President Gore leading a Town Hall to discuss climate change.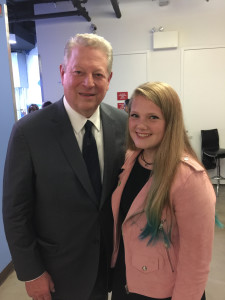 I PLEDGE TO #BEINCONVENIENT AND USE MY CHOICE, MY VOICE, MY VOTE
You can read all about the show by visiting MTV News (Julie Zelinger's article, Meet The Teen Trying To Stop Miami From Going Underwater, for MTV News is especially good and details what's happening here in South Florida), Rolling Stone or Billboard amongst many other outlets covering the Special.
So how did I, a 17 year old child, have the opportunity to share South Florida's plight with a potential audience of tens of millions (MTV's Twitter account alone has more than 15,000,000 followers)?
#SAVEMIAMI

A couple of months ago I was contacted by MTV and asked to film a Miami focused segment for their 'An Inconvenient Special' with Fat Joe who, aside from being famous all over the world for his music, has lived in South Florida for over a decade and told me that he loves raising his family here. Joe and I spent a day filming on the shores of Biscayne Bay at Matheson Hammock Park, a place I learned to swim at and have often visited while conducting field research on sea level rise and one where I've filmed my own videos (here's one example) to illustrate what is happening to South Florida.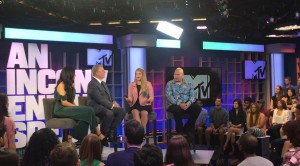 Joe and I talked about what's happening all over the region, what governments like Miami-Dade, Miami Beach and South Miami are doing, what people (including children and young adults) can do to help solve the problem and my view that our planet's global warming crisis is the biggest challenge that my generation (including his 12 year old daughter Azariah) will face in our lifetimes.
TIME IS RUNNING OUT
A few days after we filmed the segment on Miami's plight MTV and Vice President Gore's office contacted me again and asked if I could fly to New York to participate in the Town Hall with Vice President Gore and, of course, I happily accepted. In New York I attended a special screening of the new movie (spoiler alert; it's fantastic!), rehearsed the show a bit and then filmed it in front of a live audience in their Times Square studio that MTV had branded just for the Special.
"Since I met Delaney I've started to debate every night at dinner and you'd be surprised by how many people have denied that this existed and I start arguing with them, like Delaney taught me, and I already see that by having dinner debates how serious this is and we just have to think about people less fortunate, we have to think about the earth and the future, so I've been opening my eyes to it and learning more about it. It's a real serious thing. Just think about the hundreds of millions of people who are going to be affected by this."
– Rapper & Music Producer Fat Joe
In addition to Vice President Gore leading the Town Hall, we were joined by Steve Aoki who served as celebrity correspondent and took questions from the audience, MTV News Correspondent Gaby Wilson who served as moderator and Fat Joe who shared his perspective as a South Floridian and someone who, like me, is concerned about the impact of climate change on communities that might not easily be able to afford to move to higher ground (or as his hit song might say, All The Way Up).
IT'S NOT TOO LATE
The Town Hall audience was truly excellent and had wonderful questions for the Vice President, Joe and myself so I sure hope you will either tune in or set your DVR and catch 'An Inconvenient Special'. And I especially hope you will tell all of your friends and family to tune in too because we will need everyone's help to change our behaviors and solve our climate crisis before it's too late.
Viacom Networks, MTV's owner, has declared the week of July 31st as 'An Inconvenient Week' and will be sharing climate change content on social, digital and on-air media across its 10 channels including MTV, VH1, Comedy Central, Spike, LOGO, BET, CMT, TV Land, Nick@Nite and Teen Nick. You can learn more by watching each of these station's social media channels and can tune in in all sorts of ways including the following:
MTV:  Wednesday August 2nd at 7:30 PM
BET: Wednesday August 2nd at 11:00 PM
VH1: Friday August 4th at 5:00 PM (ET)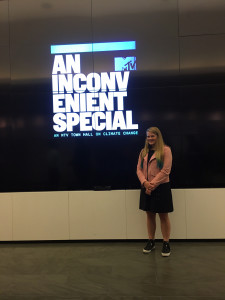 Thanks to Vice President Al Gore for his friendship and inspiration but especially for his incredible dedication to solving our planet's climate crisis. To learn more about his work, the new book and movie please visit www.inconvenientsequel.com. And to become involved in solving climate change please visit Climate Reality and consider signing up for an upcoming Climate Leadership Training course like the one I attended a few years ago here in Miami.
Thanks also to Miami born Steve Aoki and especially to Fat Joe, who I am happy has chosen to make Miami his home and for so enthusiastically joining the climate discussion. We need both of you, Steve and Joe, to take the message about what's happening to South Florida and the rest of the world to your global audiences (and dinner tables all over earth!) before its too late.
And to MTV and everyone involved in your exceptional work here and in New York in making this show, much less including me and my message, THANK YOU. Thanks Gaby, Kim, Lindsey, Amanda, Alan, Elise, Elmer, Andrea, Jason, Daniel, Christine, Mike, Andrea, Melanie, Wanda, and Dani!
THIS IS ON US
In February 2017 MTV learned that over 70% of its viewers ages 16 to 26 are very worried about environmental protection including climate change. That's important because young people will soon be forced to solve our world's climate crisis and shift our society from fossil fuel energy to one where sustainable power such as solar and wind dominate.
That percentage does not surprise me, it's similar to what I see with my work, but it gives me great hope that by working together we can solve this epic problem. As a step in the right direction towards solving the problem please consider learning more by tuning into An Inconvenient Special this week and then taking a friend to see the movie starting August 4th.
FIGHT LIKE YOUR WORLD DEPENDS ON IT