"Our economic potential will be jeopardized if we do not solve the problems afflicting our environment and water resources"
– Florida Governor, Ron DeSantis
Congrats to Florida's new Governor Ron DeSantis who was installed last Thursday as Florida's 46th Governor. Thanks are in order to Governor DeSantis for quickly giving those of us who have been desperate for environmental leadership here in the Sunshine State following eight bleak, dark, years during your predecessor's two terms some rays of, well, sunshine over the first few days of your Administration. I look forward to working with you, the Department of Environmental Regulation and other Florida leaders to protect our state's future.
We have so much work to do to catch up on to protect and save Florida that I am hesitant to show too much optimism, eight years of Rick Scott will suppress anyone's hope for solutions, but the news in the first few days of the DeSantis Governorship hold positive promise and include:
1. The appointment of a Florida "Chief Science" Officer. The fact that you understand the value of science and research is, on its own, a tremendous step in the right direction and a dramatic difference as compared to your predecessor. Thank you.
2. The creation of the Office of Environmental Accountability and Transparency to coordinate science and data with the state government's various departments and agencies is also welcomed news. Using the words accountability and transparency with the word environmental here in Florida are almost impossible to believe after the past eight years. Bravo.
3. Your Executive Order is about as important a change in direction towards protecting Florida as anyone could hope for. It seeks a whopping $ 2.5 Billion for Everglades restoration, a task force to address toxic algae and directs the South Florida Management District to begin fixing Lake Okeechobee (and in a separate, but surely related, step late last week the Governor requested that the entire Board of the South Florida Water Management District resign so as to 'clean house' and seemingly pave the way to clean the Everglades and Lake in the process). Wow.
Your Order also makes clear your opposition to oil and gas exploration, including fracking, along Florida's coasts. Floridians, I am certain, appreciate your position but also how strongly you expressed your view by stating that Florida's Department of Environmental Protection shall "adamantly oppose all off-shore oil and gas activities off every coast in Florida and hydraulic fracturing in Florida". Floridians of every political party celebrate your position on this important topic and especially appreciate the word "adamantly", something we all agree upon and a position that would seem to even challenge your number one supporter during last year's campaign, President Trump.
And yes, within that same Executive Order we find your direction that Florida's Department of Environmental Protection create the Office of Resilience and Coastal Protection. As your Order stated, the purpose of this new Office of Resilience and Coastal Protection is to "help prepare Florida's coastal communities and habitats for impacts from sea level rise by providing funding, technical assistance and coordination among state, regional and local entities".
Wait.
What?
Did Florida's new Republican Governor use the three words "sea", "level" and "rise" together? That alone is a dramatic step forward and I for one am sincerely grateful that Governor DeSantis appears to arrive in office carrying a dose of reality that our state can't survive unless we address climate change. It's possible that the fact that we don't have a day to wait to begin solving our climate change crisis and within it the threat to Florida's very future, certainly that of South Florida, from sea level rise has begun to sink in.
His name might be Ron, but perhaps in time he will become known as Governor Reality and show what I have long thought, that Florida can have a robust economic future while addressing the causes and impacts of climate change. The Governor might not want to publicly debate or dissect man's impact in causing this crisis but, as long as he sets in motion policies, processes and funding to allow Florida to begin solving its share of the problem and to mitigate its impact as much as possible, then that might just work. It sure is a start. And speaking of work, and a start, how about we work to make Florida a global leader in the production of solar panels and technology? How about we work together to see solar power installed everywhere and in doing so create new businesses and great paying jobs all over Florida so that The Sunshine State can become The Solar State?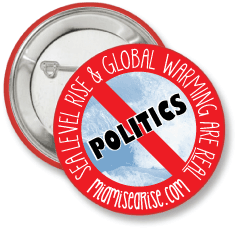 Okay, enough "hopeful" talking from a kid for now. Now "let's get to work" on protecting Florida and trying to save South Florida in particular from the threat from sea level rise. With a new year, Governor and direction upon us let's embrace what these initial steps suggest might be achievable; that we set politics aside as absolutely much as possible and focus on the science and solving our significant environmental problems.
You can read more about Governor DeSantis new policies and how both esteemed writer Carl Hiaasen and the Miami Heralds Editorial Board  by clicking here and here. You can read Governor DeSantis Executive Order by clicking here.